・VALIANTZ is a game mode inspired by the open world video game "DayZ" from Arma II. Taking as references some mechanics of the "MineZ" modality of the famous Shotbow Network server.
In VALIANTZ you will have to survive in a post-apocalyptic world dominated by Zombies. Getting resources and stocking up will be your priority so as not to die from various factors such as hunger, dehydration, infections, among others.
Commands like /warp, /spawn, /tpa or other commonly used commands ARE DISABLED. This to promote survival between players. The only way to get back to spawn is by DYING or by going to the ships in each town.
▲ SERVER REQUIREMENTS.
Required Server Software: Spigot/Paper 1.20.1.
Minimum 6GB of ram. (Why so much? Find out here)
▲ THINGS TO CONSIDER.
Compatibility:

 I will not support different versions of the required software (specified above).
▲ THIS RESOURCE IS IN BETA.
Why in BETA? This resource was considered in beta phase because I feel that it is not at its full potential and that it may have some other problem since it is a fairly large project to develop. However, everything possible will be done to solve problems/bugs that are reported as quickly as possible.
▲ PLUGINS:
▲

CITIZENS [Free]:

▲

QUALITYARMORY [Free]:

▲

OPENAUDIOMC [Free]:

▲

TAB [Free]:

▲

ELITEBOSSES [Premium]:

https://www.spigotmc.org/resources/elitebosses-create-your-own-bosses-6-premade-bosses-10-effects-discord-bot-20-sale.89093/
▲ WORLD (WEIGHTS 330MB):
The world is limited to only

8000×5500

because it is not necessary to use a whole world and players cannot break blocks. However it is a custom terrain with biomes and structures.
Important: This world is an edition of THIS MAP and all credits go to its creator. This original map only has terrain, but in this setup towns, various locations, structures and more are added.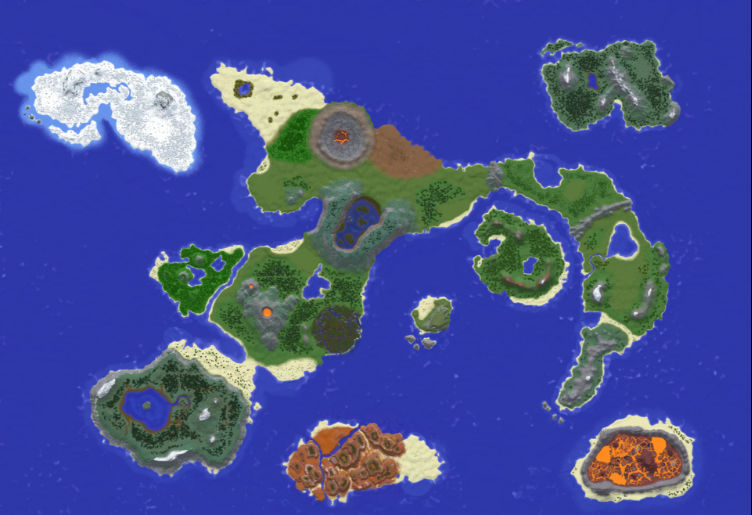 If you need more information about any feature you can visit the official public ValiantZ wiki.
▲

 CUSTOM CODED – Most of the mechanics are created solely for this setup.
▲

 CLEAN DESIGN – The server has nice designs on the scoreboard, bossbar, tab and menus.
▲

 RESOURCEPACKS – For a better visual experience, the setup has 2 resourcepacks, one for guns and one for a better representation of some things.
▲

 ECONOMY – Players will be able to get money in various ways to buy better equipment and items.
▲

 POINTS & POINTS SHOP – Points are a second economy and can be obtained by killing Zombies or players. In the point shop you can buy upgrades for your respawn kit.
Respawn kit upgrades are permanent.
▲

 BANK MANAGER – Here you can store items and money. It is the only way to save items. Each player has 5 pages of 4 lines to store their items, so organizing will be very important.
▲

 BOUNTIES – You can put rewards on the heads of other players, either in money or items.
▲

 GUNS & AMMO – As in the original 

DayZ

 game there are weapons and ammunition, but these can be bought in spawn or obtained in the "Helicopter Drops" event. Each weapon requires a different type of ammunition so be vigilant.
It also includes some types of grenade.
▲

 HEALTH ITEMS – There are healing items such as bandages, aloe vera, stimulants, and more to heal yourself or receive positive effects.
▲

 INTEGRATED COMPASS – As an aid for the players, in the upper part of your screen (bossbar) you will have an integrated compass to orient yourself more easily.
▲

 HELICOPTER DROPS – The "Helicopter Drops" event is an envoy system inspired by DayZ's "Helicopter Crash" event. These spawn every 24 hours in the Evacuation Zone located in the world. You can get guns, ammunition and various items.
▲

 LOOT CHESTS – Loot chests are one of the fundamental mechanics, it is the main way to obtain items. There are chests scattered all over the world in towns and structures. These can vary in their type and rarity to give various items.
▲

 COBWEB CLEANING – Efficient way to obtain strings. You can clean cobwebs by clicking on them with a shovel.
▲

 GRAVE ROBBING – Grave Robbing is a legal method of obtaining items. This consists of literally grave robbing using a shovel made of any material.
▲

 THIRST – You can die of dehydration if you don't drink water from a bottle. If your percentage reaches 100% you will die.
▲

 BLEEDING – If a player or a zombie attacks you there is a chance that you will start bleeding. You can stop the bleeding with a bandage.
▲

 INFECTIONS – If a Zombie attacks you there is a chance of contracting an infection that could kill you.
Symptoms: Poison, Slowness, Nausea, Weakness

Eating rotten flesh can get infected.

You can contract the infection of another player if you hit him.
▲

 BROKEN LEGS – If you fall from a certain distance there is a chance that you will break a leg. If you have a broken leg you will not be able to run and you will walk slower than normal. You can use Morphine to heal yourself or wait for a few minutes to pass.
▲

 STAMINA – Stamina is represented by your hunger bar, it will decrease faster than normal and will fill up just as quickly. This makes you feel more tired when performing certain actions.
▲

 COLD SYSTEM – If it is raining/snowing in the minecraft world and the player doesn't have any clothes on them (armour) or is not near a torch then he will begin to

freeze

using the powdered snow effect.
If a player is standing near a heat-emitting block such as campfires when it's raining, he will feel cosy.
▲

 FISHING SYSTEM – An extensive fishing system awaits you. There is a wide variety of fish to catch. You can use baits to improve your effectiveness.
▲

 FOOTPRINTS – Walking on the grass will leave a trail of footprints. These will be deleted after a few seconds. If you walk crouched these will not appear.
▲

 LIVING DEADS – The living dead is a visual system that when a player is killed by a Zombie, a Zombie will appear at the death site using the equipment (armor and weapon) the player had before dying. This will have the player's head on as a simulation.
Important:

 If you kill a living dead with armor, it will not give you any item since it is created for aesthetic purposes.
▲

 WEIGHT – Knowing what type of armor to wear at certain times will be paramount. Armor pieces have different weights depending on the type of armor. Iron armor will weigh more than leather armor and will slow you down.
▲

 CHAT RADIUS – The wild world chat is modified so that only people within a radius of 200 meters (blocks) can receive your messages.
▲

 CUSTOM ZOMBIES – The spawn rate of Zombies is different from normal Minecraft.
Zombies will spawn more frequently and in greater numbers and can be faster and stronger, or slower and weaker.

Zombies are cannibals, they can eat each other if there are no players around.

Zombies don't burn during the day, be careful!
▲

 AMPUTATIONS – You can perform an amputation with a knife (sword) as a way to stop an infection. This will remove all the negative effects of the infection immediately.
▲

 BACKPACKS – There are a few types of backpacks available to craft.
▲

 CRAFTINGS – Different custom crafting of some items.
▲

 SHOPS – Shops in the Spawn to spend money on equipment and items.
▲

 GRAPPLING HOOK – You can buy in the Utilities shop
▲

 TECHNOLOGY – High-tech gadgets.
▲

 BLOOD FADING – When attacked blood will fade around the edges of the screen.
▲

 PROXIMITY VOICE CHAT – This system allows you to use your microphone to talk to people who also have this option activated. You will have to be close to hear them.
▲

 1.16.5 TO 1.19 – Support for recent versions
▲

 CLEARLAG – Every so often the items on the ground will be removed to avoid lag. The alert message will not appear in the chat so be careful.
▲

 GUILDS – Simple and useful Guild system so that players can make teams.
You will need to go to the 

Guilds Town Hall

 located in the world to be able to access the Guilds commands.

Each level up of your Guild will increase the member capacity.
▲

 BOSSES – Thematic bosses to kill.
The bosses are Anubis, Devil and Barbarian.

Bosses appear in their specific "Dungeon" in the world.

Bosses have skills and phases.
▲

 PLACEHOLDERAPI – The setup has a system of placeholders to be used externally.
▲

 8000X5500 WORLD – The world is limited to only 80

00×5500

 because it is not necessary to use a whole world and players cannot break blocks. However it is a custom terrain with biomes and structures.
Builds (Map and Others)
Map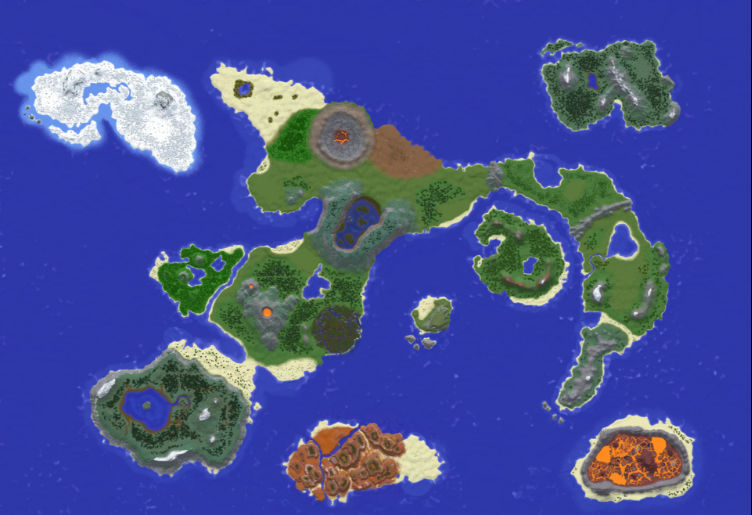 Towns
• Portobelo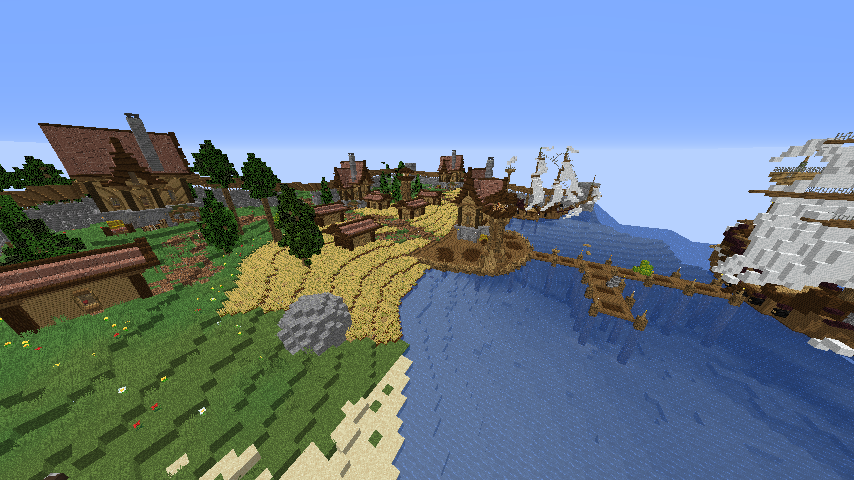 • Snowhelm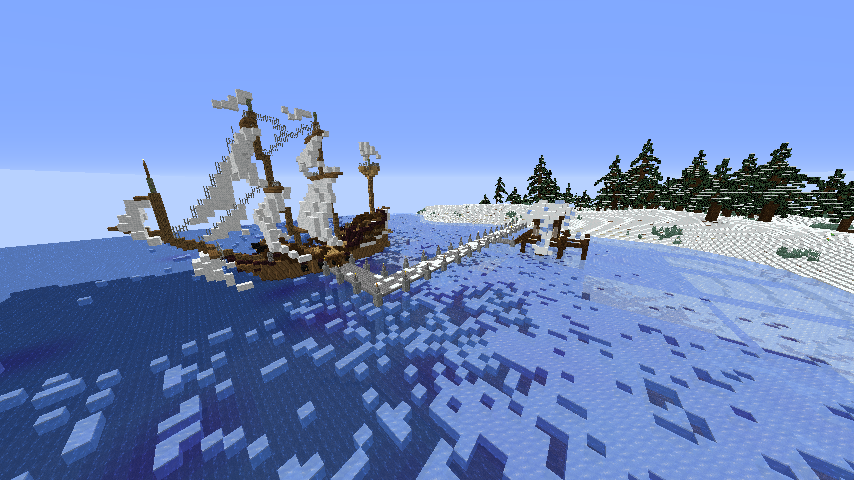 • Kalhu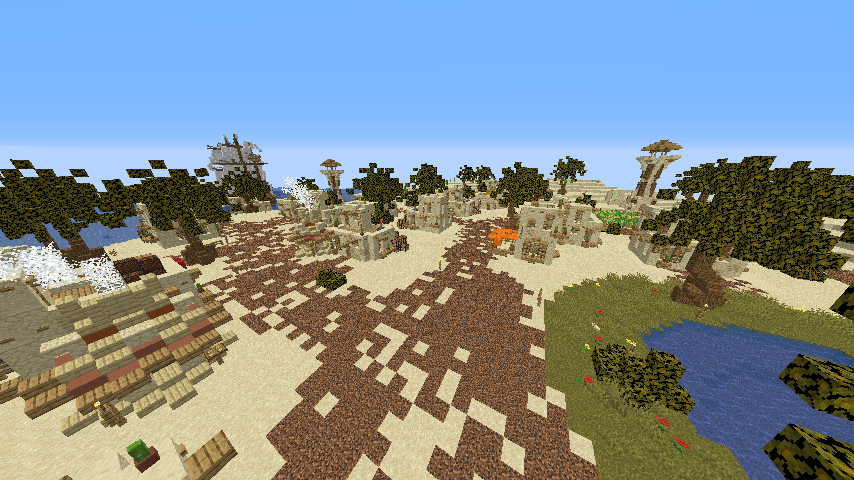 Other Structures
• These structures are spread throughout the world.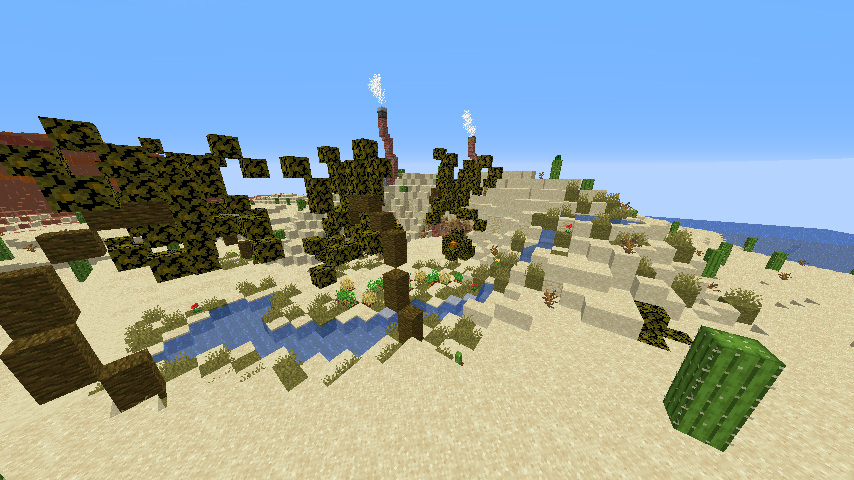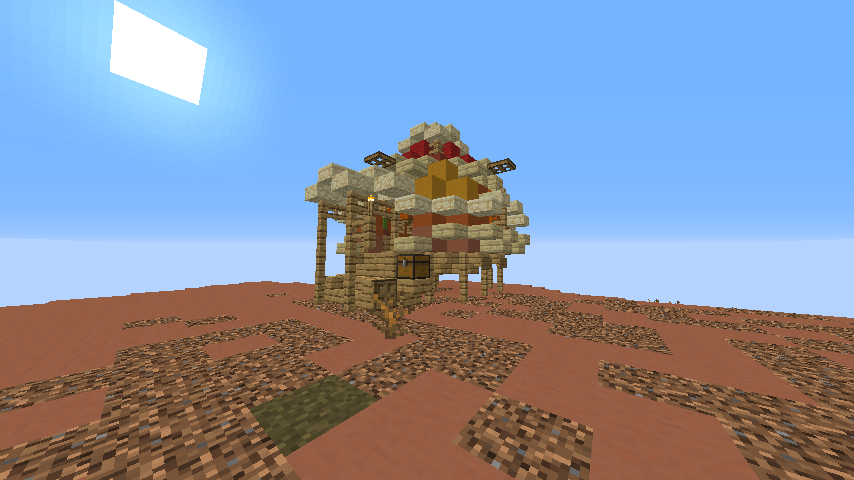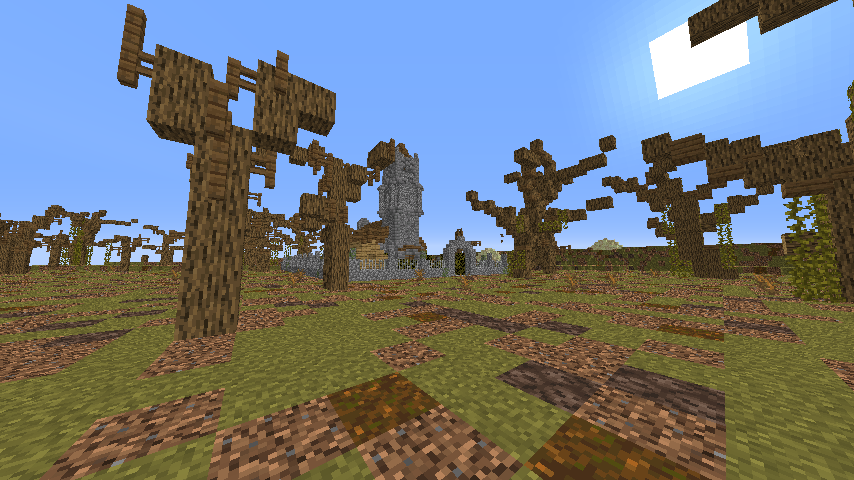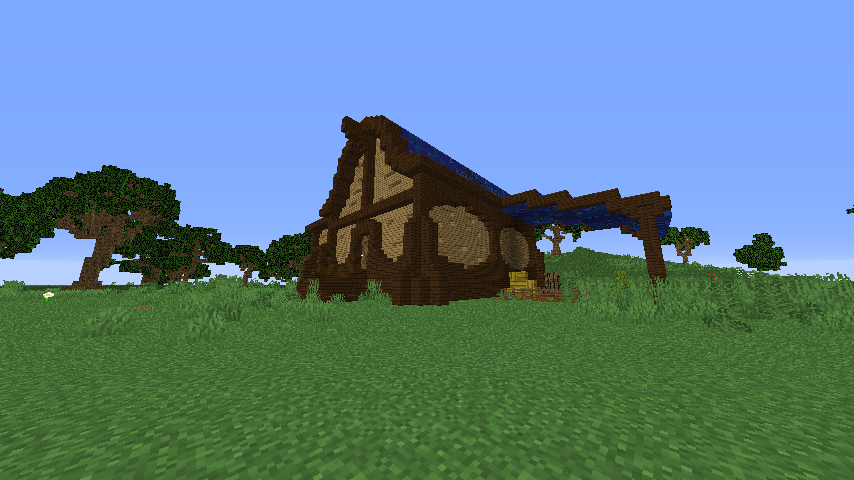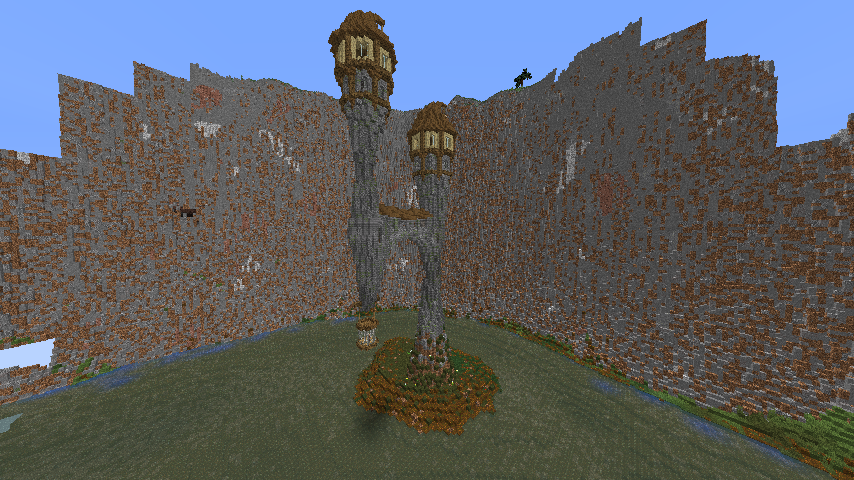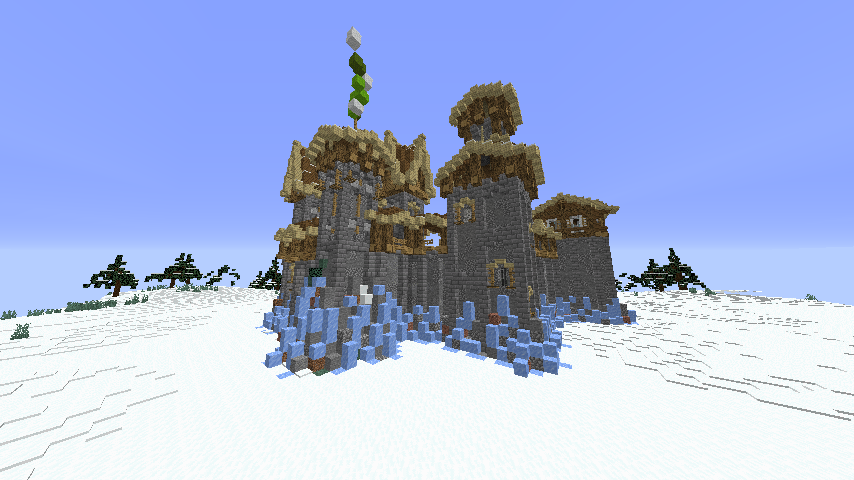 Spawn Kit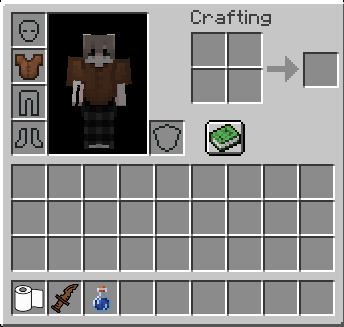 NPCs & Menus
• Main Menu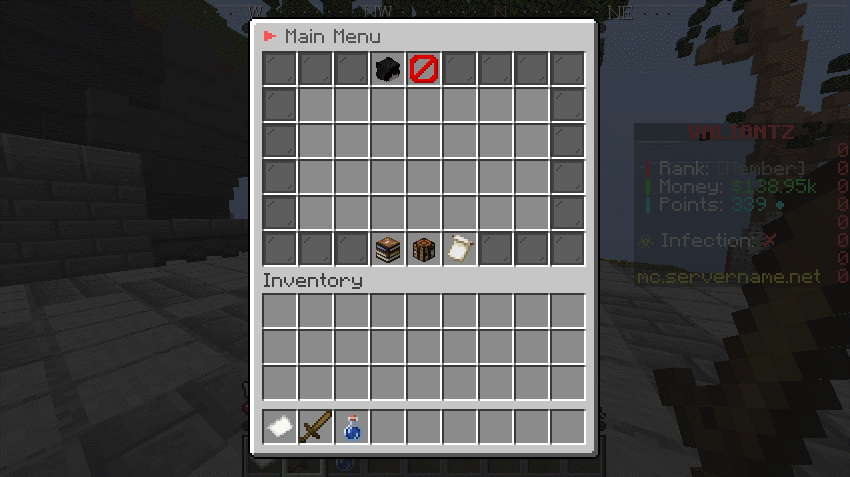 • Bounties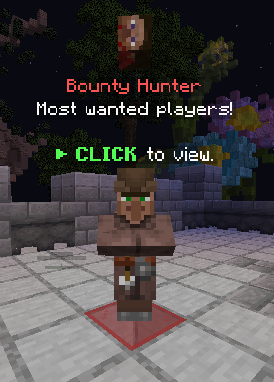 • Fisherman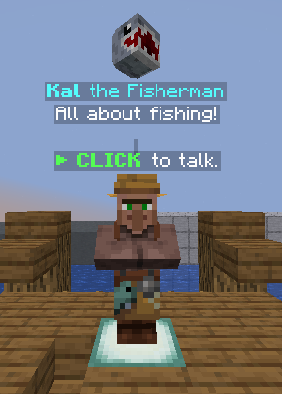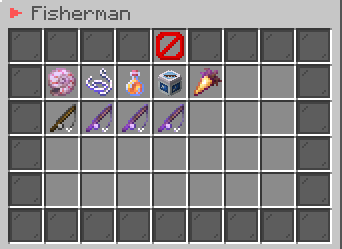 • Guilds Master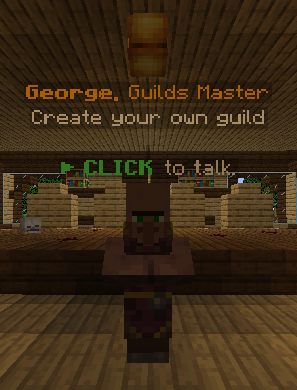 • Points Shop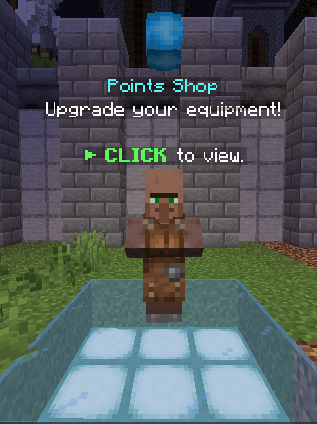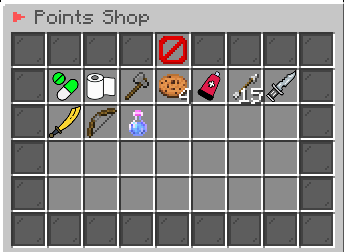 Way of Navigation
• In the spawn you can choose to travel to the 3 main towns.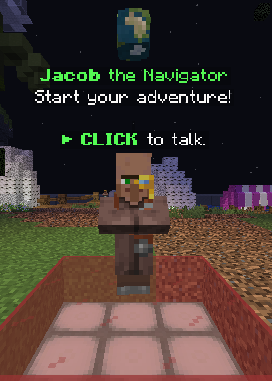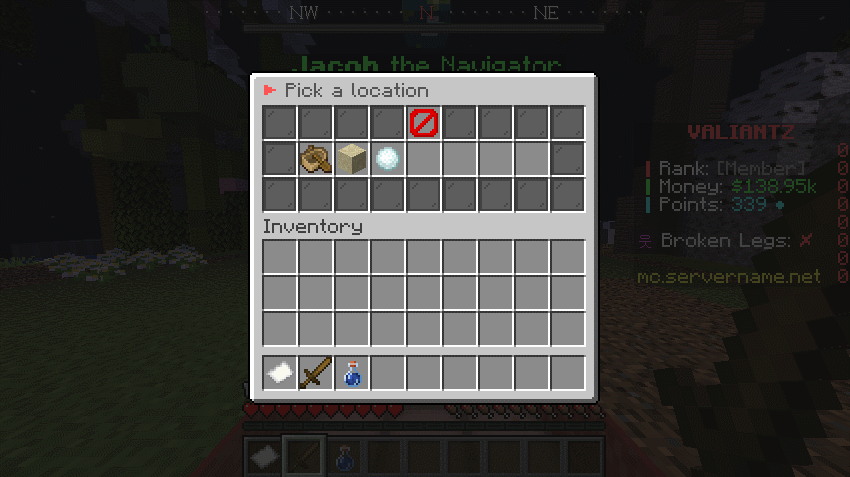 • The only way to get back to spawn is by dying, or by heading to the 3 points in each city, the ships. If you want to go to another town you can go through the world or you go from the spawn.
• The /spawn command is disabled for players.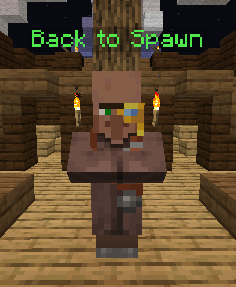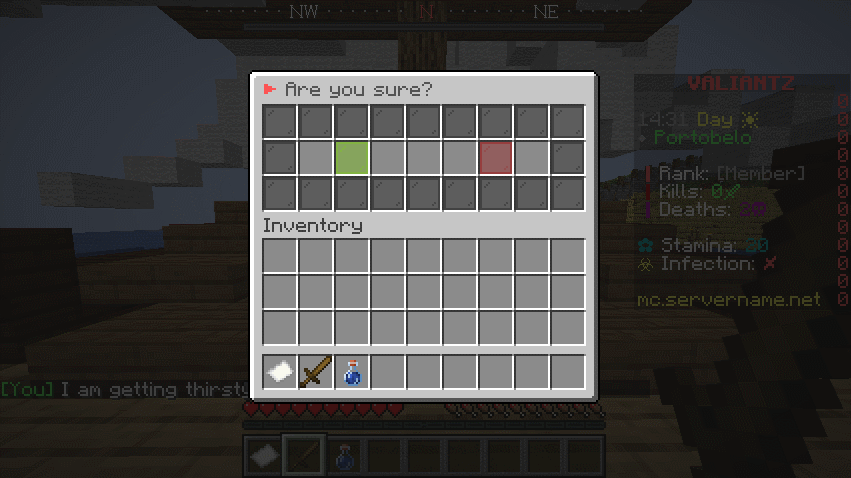 Dungeons & Bosses
Devil (Blood Throne)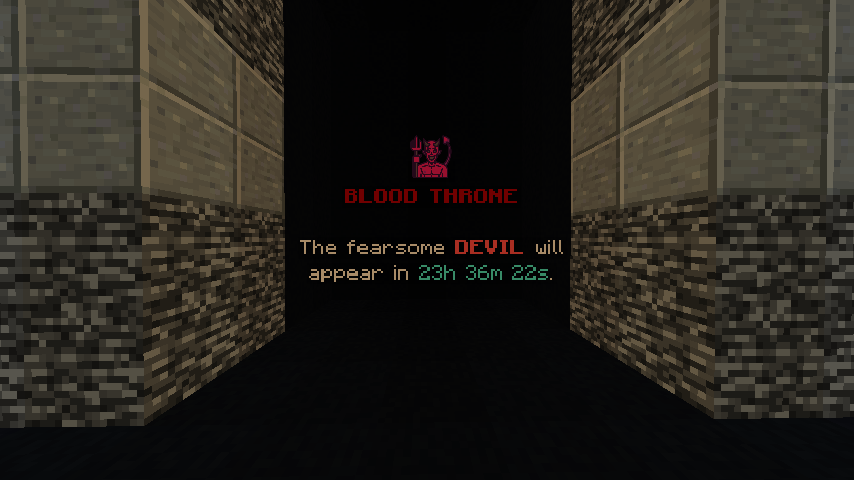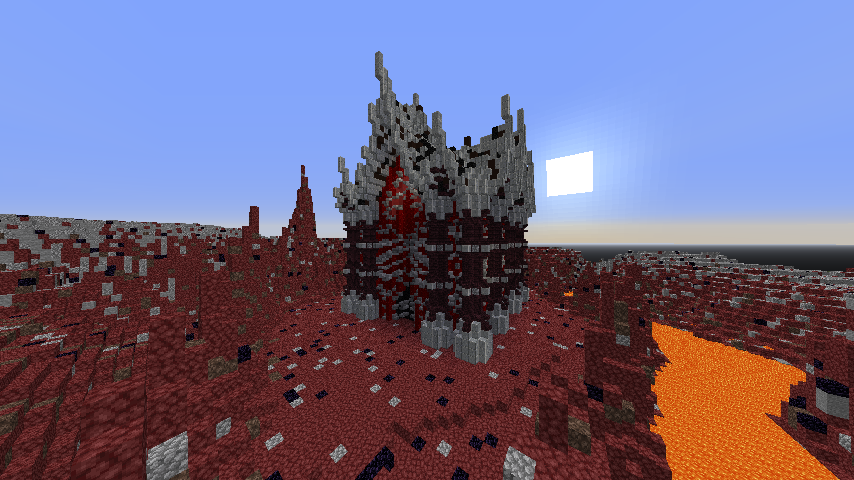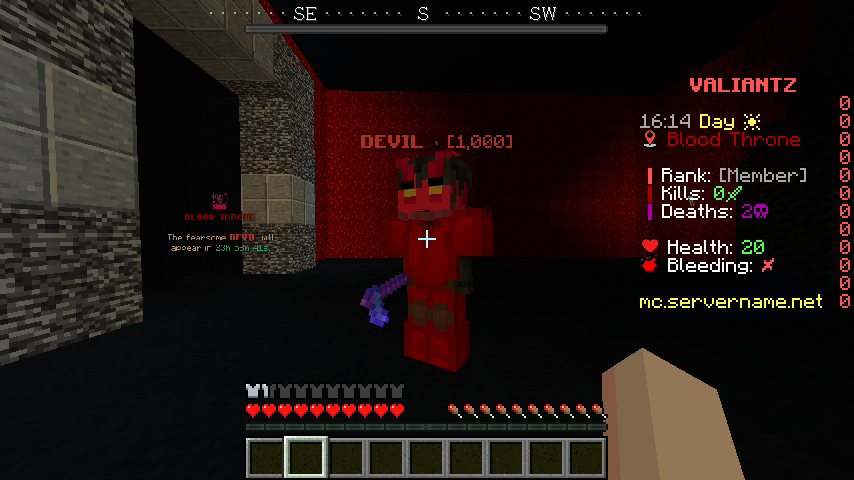 Barbarian (Dondra Castle)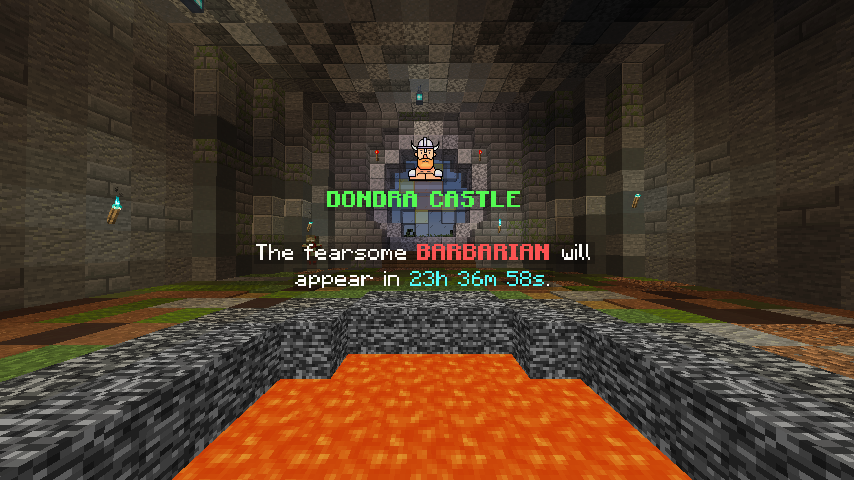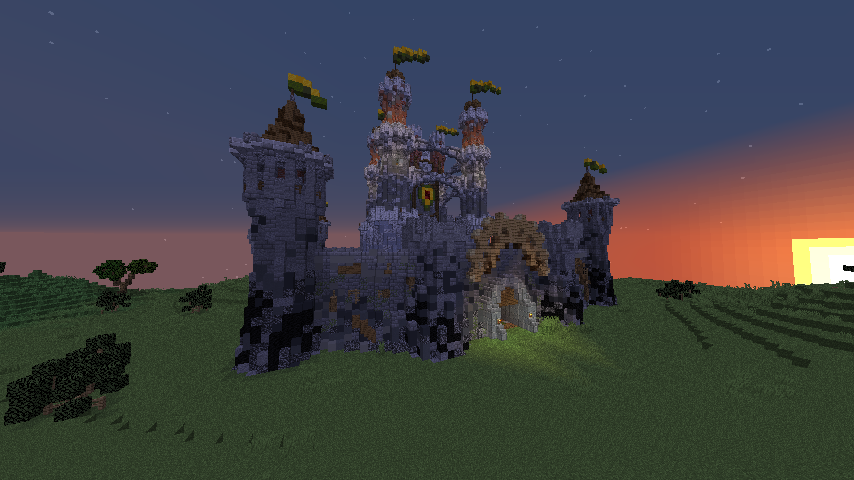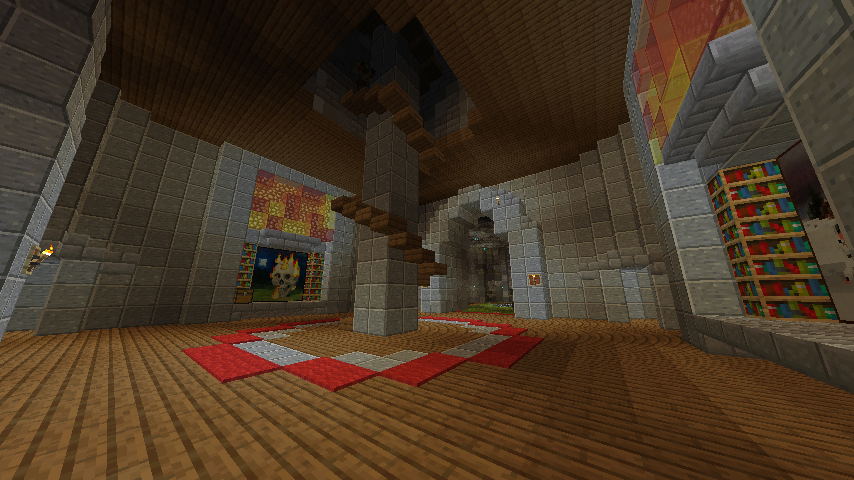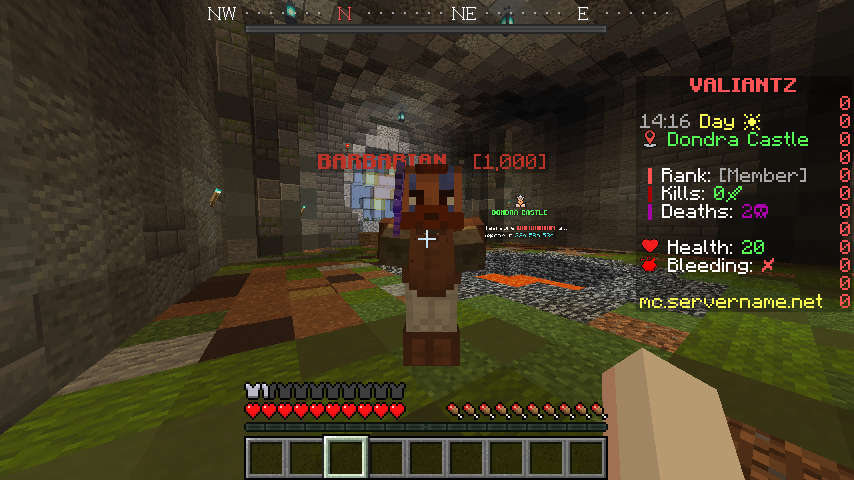 Anubis (Anubis Shrine)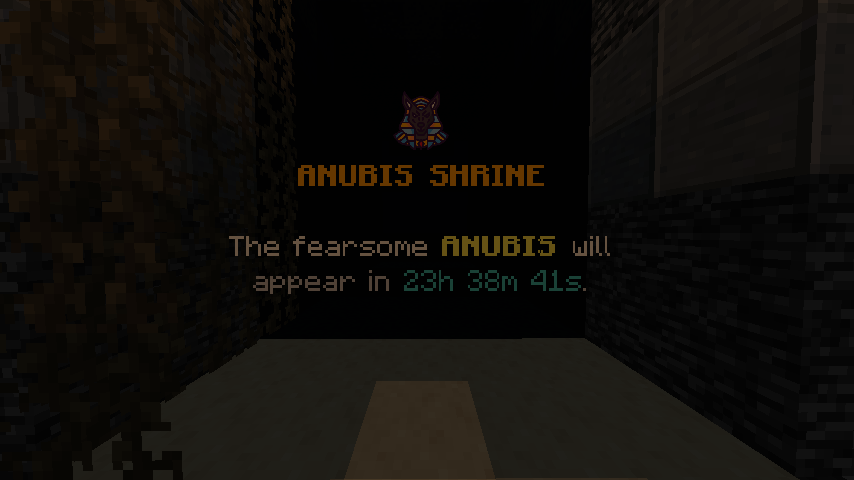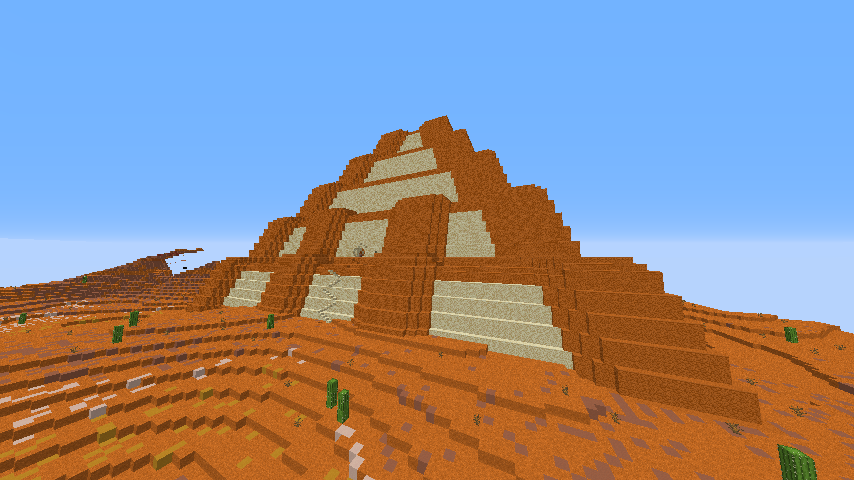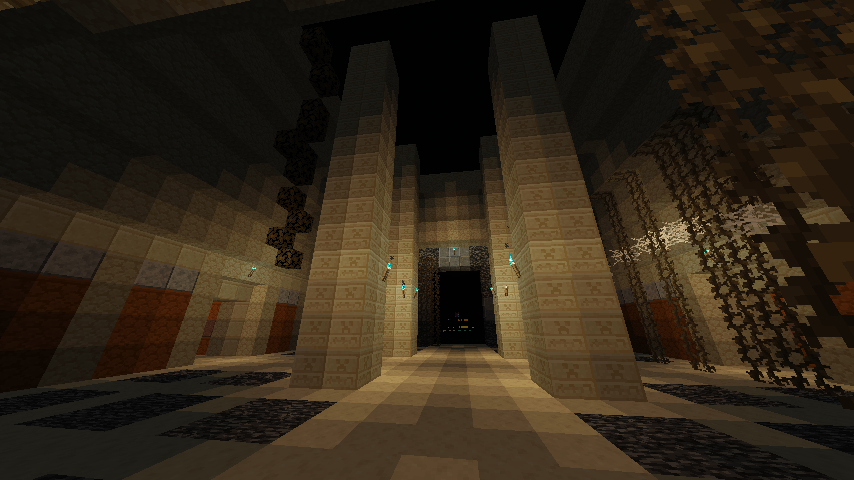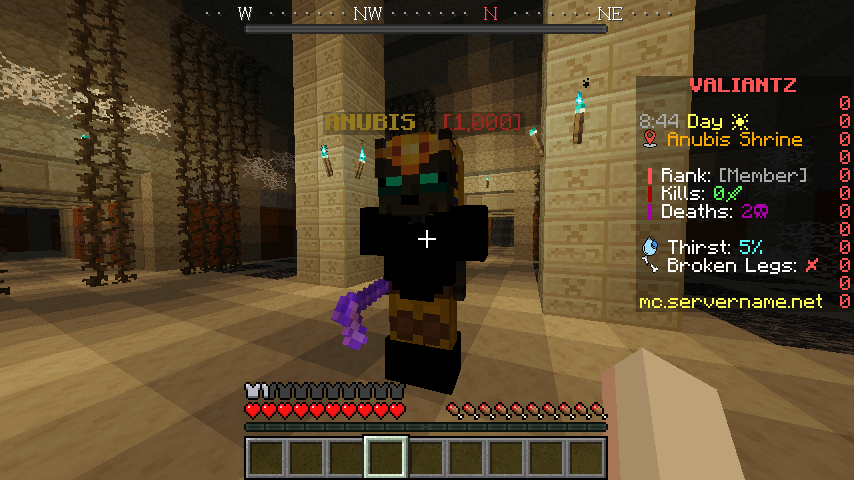 Bank Manager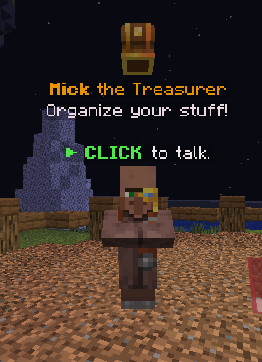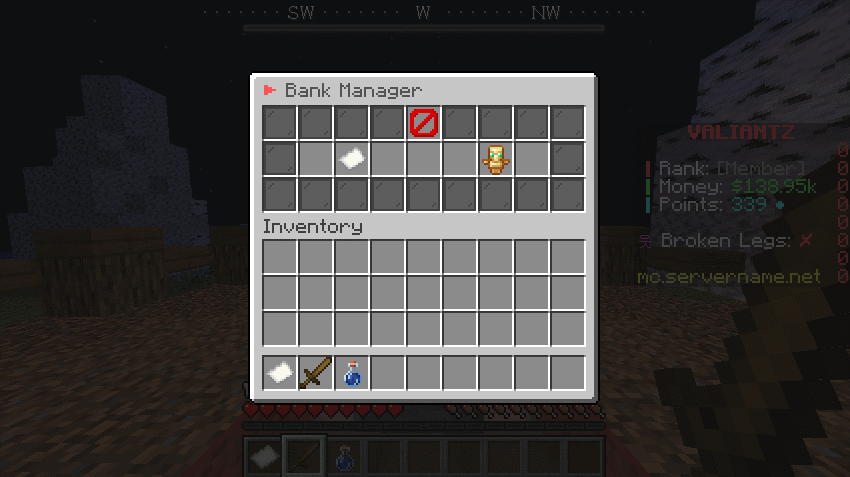 • Money (Deposit)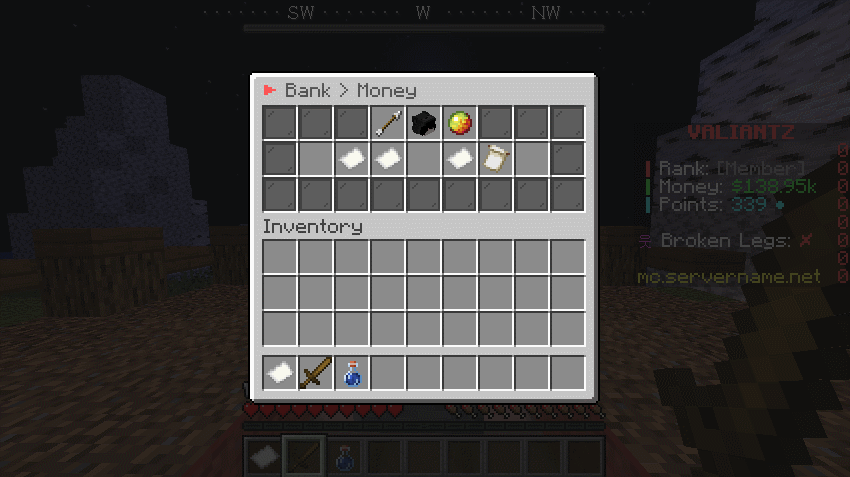 • Money (Withdraw)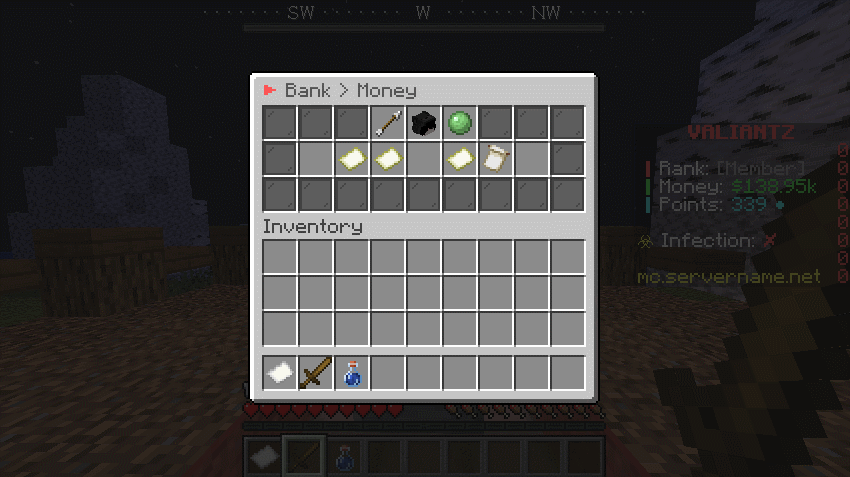 • Items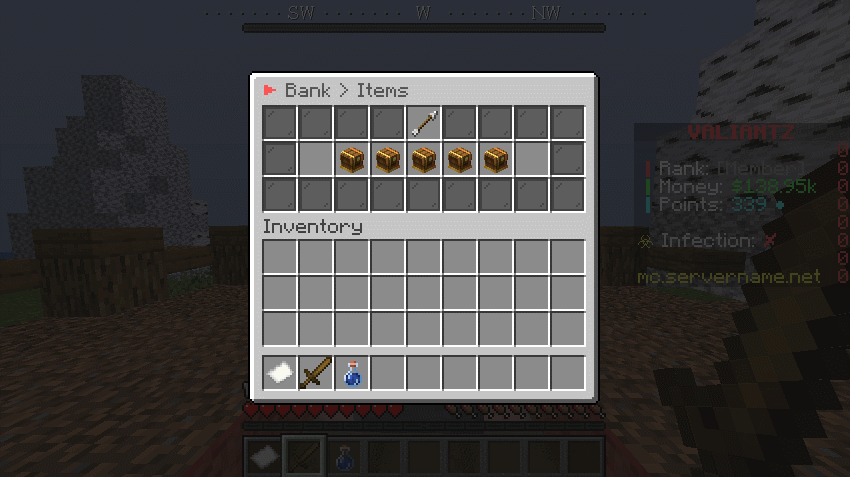 Shops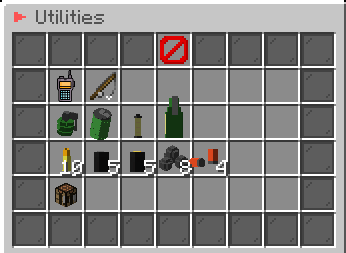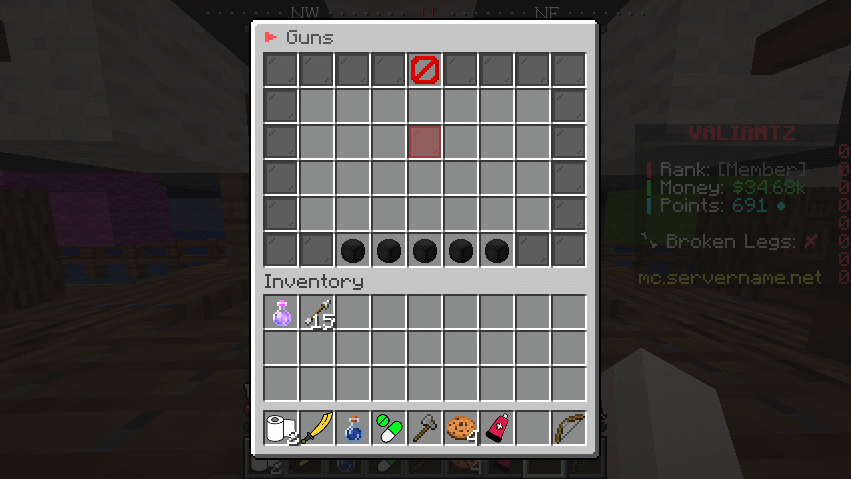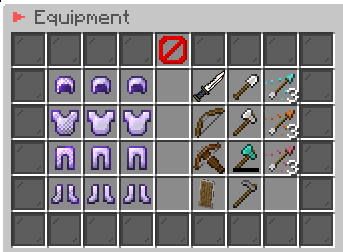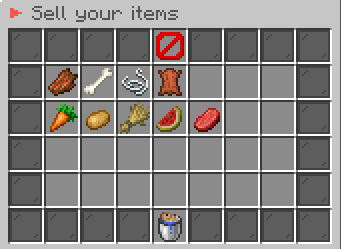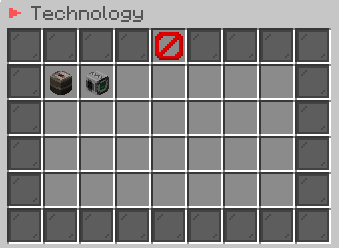 General Aspects (Scoreboard, Resourcepack & More)
Loot Chests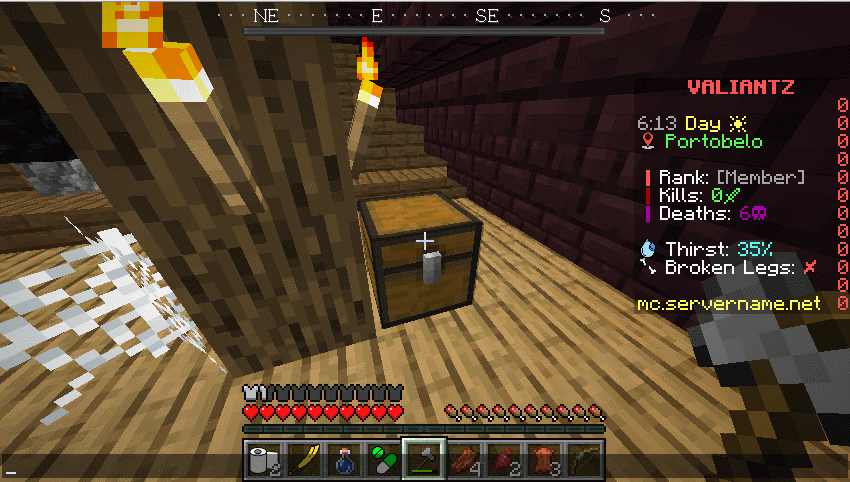 Living Deads
• Before die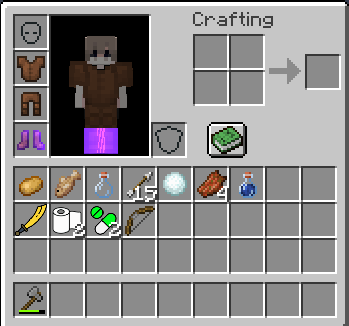 • After dying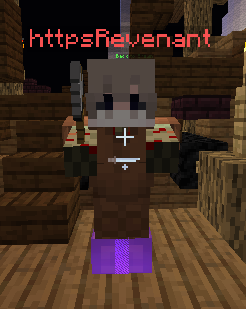 Scoreboards
• Spawn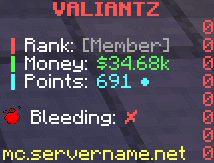 • World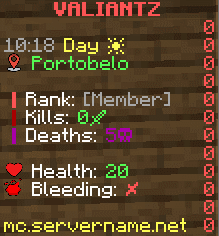 Dialogues
• These small dialogues are shown in first person to give it a touch of "reality".



Integrated Compass

Helicopter Drops (Envoys)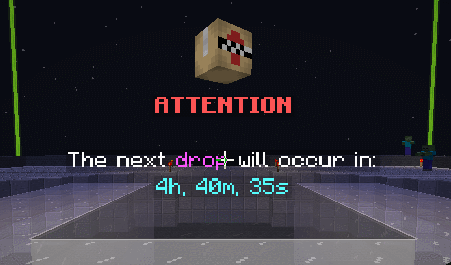 Resourcepack Comparator
• Before | After


 • Zombies skin with the resourcepack.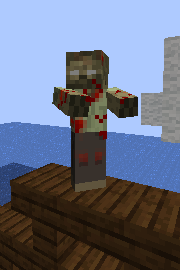 ▲ COMMANDS.
▲

GENERAL:

▲

ADMIN:

/dz setspawn

/dz giveitem <item> <player> <amount>

morphine

bandage

healingointment

stimulant

revitalizer

aloevera

antibiotic

/admingui

/spawn

/zones
▲ PERMISSIONS.
You are not allowed to resell this product. It also applies to other products of my authorship.

You are not allowed to claim this product as your own in any case.

All purchases are final, therefore we do not issue refunds of any kind.

Before buying, please read all the product information on its page. If you have questions about something specific, contact us on our Discord server to assist you.

The price of the product can be changed at any time without prior notice.

The license of the purchased product can be removed at any time only in situations where it can be considered that it has gotten out of hand.

Do not use the reviews section for error/bug reports. You can report it on our Discord server or by private message on this same platform to try to solve it as soon as possible.
∷ Failure to comply with any of these terms may result in a license suspension of the product or all products from Valiant Setups.